note: All previous owners were located by Bill Gould of www.autoancestry.com.  Thanks to my buddy Art who recommended Bill. 
 Alfred 1969 – 1974
previous = 1st owner unknown, repossessed by Placke Chevrolet after only a few months
sold to = Dave Brock (see bottom)
In August 2011, I talked to the 2nd owner Alfred. Alfred bought the car in 69 when he got back from Vietnam. The first owner only had it for a few months and had the car repossessed. When I got the car, Alfred's name was listed on the 2nd owner Protect-O-Plate.
Alfred emailed me a 1969 picture of him and the car.  This picture is not as faded as the other ones and it's before he put the fog lights on.  The picture was taken at Scott Air Force Base in Illinois.  It's a terrific picture and looks like a modern day car show.  It's amazing these are all daily drivers.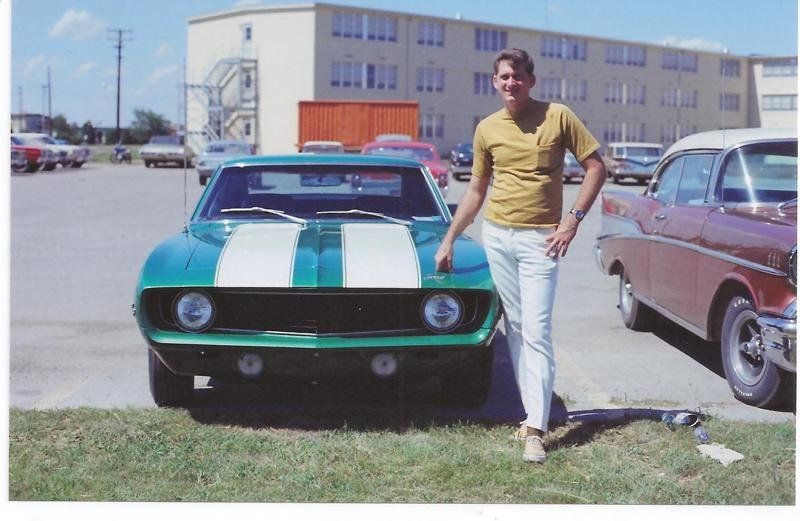 Alfred sent me this note regarding the pictures he sent shown below:
I had more than I thought.
01..taken in late '69 in Canoga Park,CA
02.. " "
03..1971 in San Francisco,CA
04..early 1969 at Scott AFB,CA
You can now see the wheels I had on it. Also this was before I changed the front springs which I did in 1970.
#1)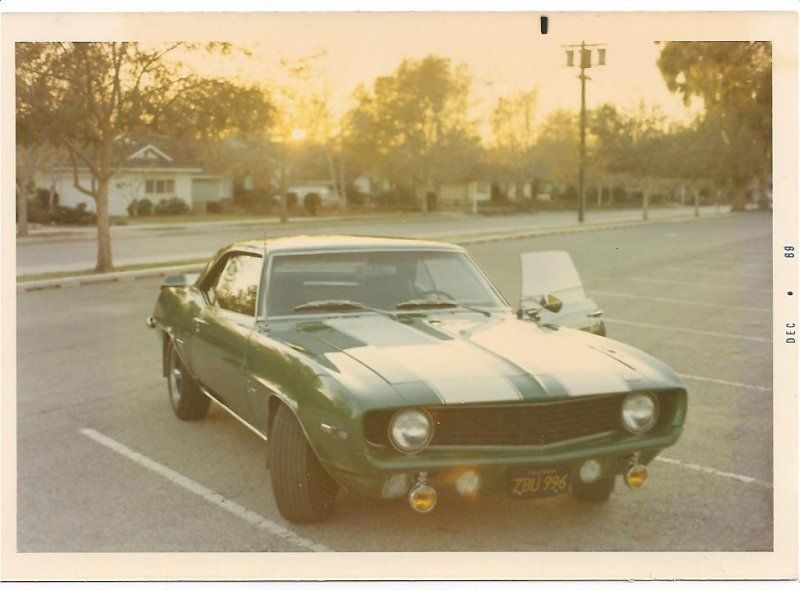 #2)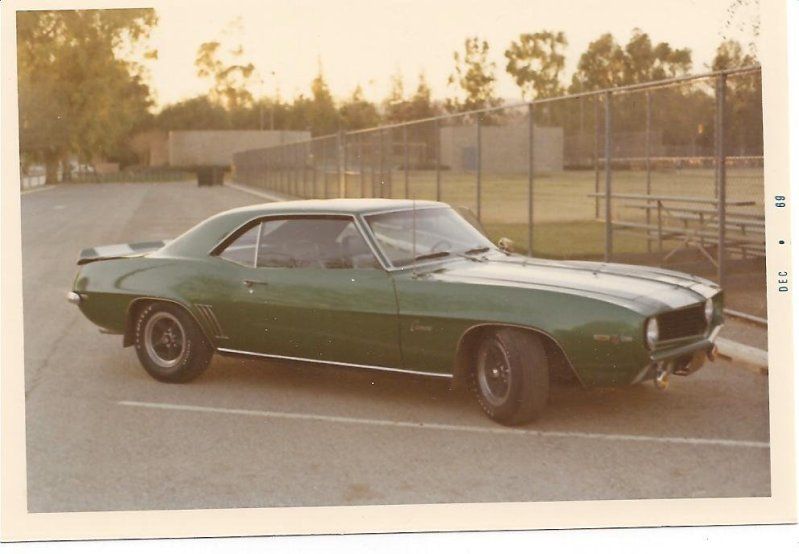 #3)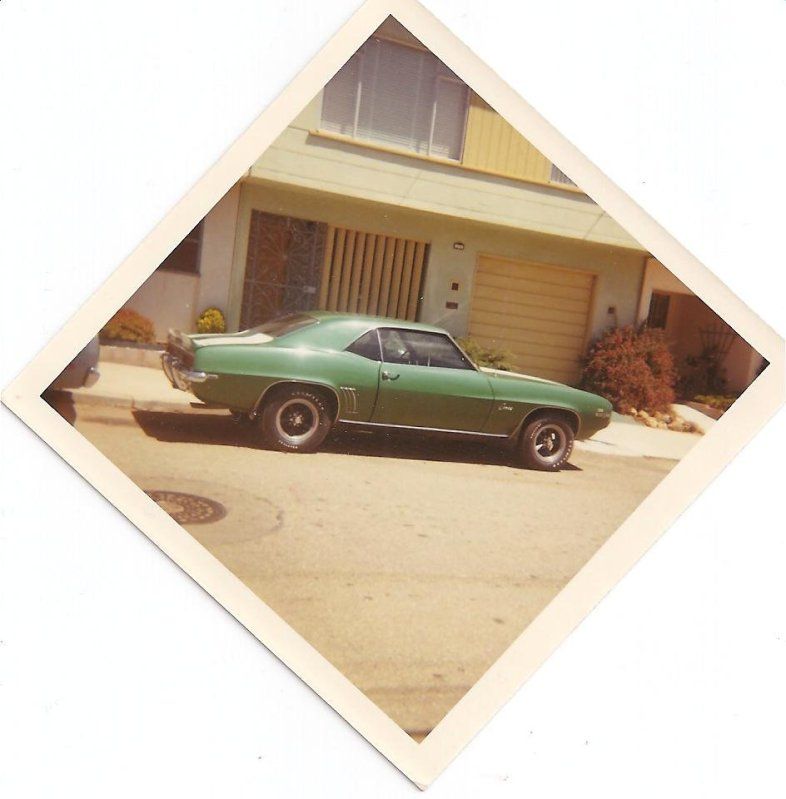 #4)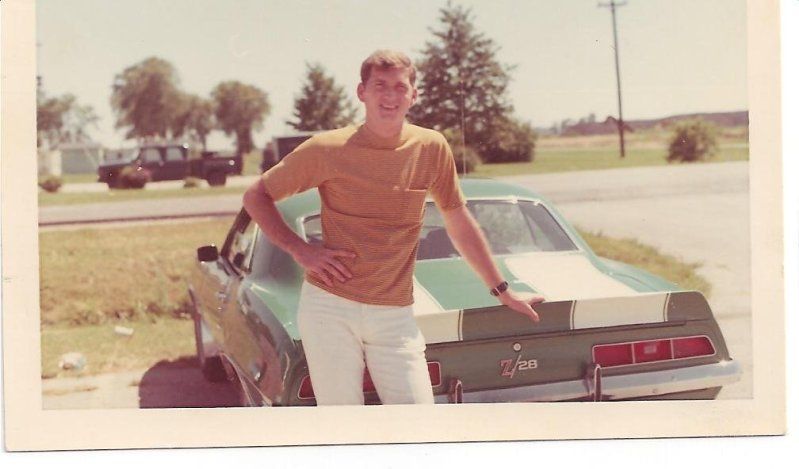 #5)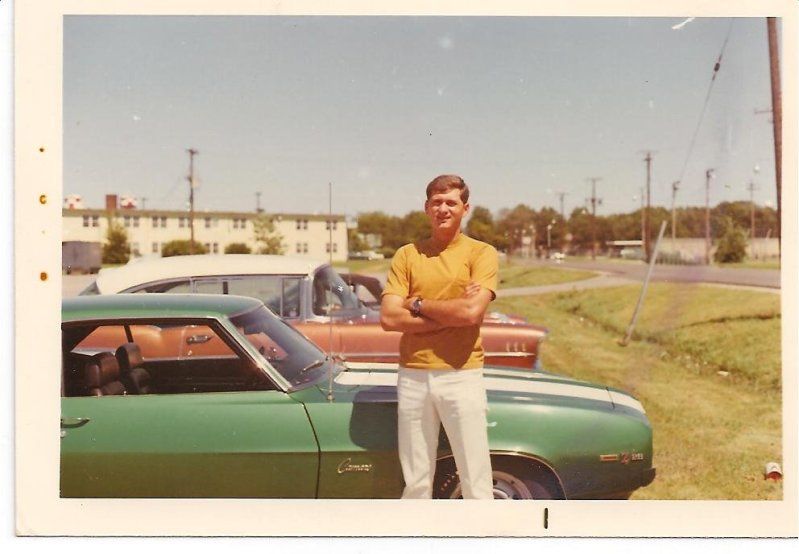 Notes from August 2011
Alfred bought the car from Placke Chevrolet in 1969.  Placke Chevrolet was in St. Louis Missouri.
It was a new/used car meaning that it was still within its first year warranty period.  He paid $3,400 since it was not new, but new/used.  Alfred thinks that the first owner didn't make the payments on the car and it was repossessed.  When he bought it, it had 3,000-4,000 miles on it.  He had been looking at a metallic-brown 69Z with the cowl-induction hood, but it cost more than the green 69Z.  He wasn't in love with the green color or the flat hood on it, but bought it he thinks because the cost was lower since it was not new.  He met his wife around the same time and he was 24 years old.
He was stationed at Scott AFB in Illinois when he came back from Vietnam in 1968, but just got reassigned to Hamilton AFB in CA.  In 1972 he was reassigned to Wichita Falls, TX at Sheppard AFB.  His son was born in 1973 and he wanted to get a more family oriented vehicle and bought a 74 Chevy pickup.  He sold it either in 1973 or 1974 to Dave Brock for $1,650.  He was 29 when he sold it and thinks it was most likely in 1974 so he had it for about 5 years.  Dave Brock was also in the Air Force living in Wichita Falls, TX.  He and Dave were both Staff Sergeants at the time and fellow maintenance instructors at Sheppard.
For maintenance, he mentioned changing the clutch in 1971.  Also he had a recurring problem with the valve springs and the same valve spring broke 3 or 4 times.  He got real good at fixing it and used to carry the needed tools like the spring compressor and sockets with him.  Once it broke at night going across the golden gate bridge when he started hearing a tapping.  He pulled into the toll plaza parking lot and changed it right there.  For the carburetor, he did not change the carb that was on it, but he repaired it once and reinstalled it.  The wheels he changed.  He put on aluminum 5 spoke mags.  The front end of the car was real low, and the spoiler broke off.  He had the front-end springs changed and then the front end was too high.  He ended up putting 60 series Firestone tires on it.  He also mentioned putting on a capacitive discharge system, which was a small box, and he screwed it on the firewall.   This way he did not have to keep changing out the points on the distributor.  Alfred is the one that put the fog lights on.  He lived for a while in the San Francisco Bay Area and it was real cloudy some mornings. The fog lights took care of that.
 3rd owner – Dave Brock   1974 to July 1974
bought from = Alfred (see above)
sold to = Larry
I don't have much info on Dave Brock.  Alfred said he may have been from Texas.  Around September 2011, Alfred told me that he and Dave were both Staff Sergeants at the time and fellow maintenance instructors at Sheppard AFB. Dave was around 20-22 years old so Alfred thinks he might be around 65-66 now.